Scroll down to the comments to read what survey respondents are reporting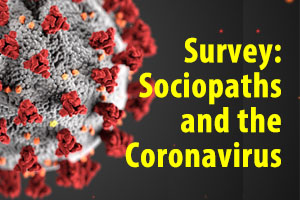 Lovefraud has been hearing some distressing stories about sociopaths and the coronavirus — some are using pandemic as an opportunity to create new kinds of havoc. So we're wondering — how much of this is going on? What types of games are sociopaths playing?
If you're dealing with someone who you believe has a personality disorder during the pandemic, tell us what you've seen by completing the Lovefraud Coronavirus Survey. The individual could be your:
Romantic partner or spouse
Parent
Child (age 18 or older)
Work colleague or business associate
Family member
Friend
The Lovefraud Coronavirus Survey asks whether the individual you are describing complied with social distancing orders, if the individual was abusive during the lockdown, how the individual parented or co-parented minor children, whether he or she used the emergency to illicitly make money, and more.
The survey also asks you questions about the individual's personality traits. If you complete the survey, it's important to answer these questions. Your answers are necessary in order to establish a link between personality traits and behavior.
Of course, your personal safety is paramount. The coronavirus survey is anonymous; we do not collect any identifying information, such as your name, birthdate or IP address. If you live with the individual, we recommend that you do not complete the survey while the person is home or on a device that he or she monitors.
Read more: Scientific research by the Lovefraud team
The research team includes Donna Andersen, author of Lovefraud.com, Dr. Liane Leedom, of the University of Bridgeport, and Dr. Martin Sellbom, of the University of Otago. Results may be published in a scientific paper, on Lovefraud.com and elsewhere.
So if you have something to say about sociopaths and the coronavirus, let us know. Click the link below to go to the Lovefraud Coronavirus Survey.