About these courses
Your last romantic partner, unfortunately, turned out to be a sociopath. It was awful, but you don't want the experience to ruin the rest of your life. You want to find a new partner — a real love, not a fake love.
Donna Andersen knows from experience that it is possible to recover from a sociopath and move on to a healthy relationship. With this bundle, she'll help you do it.
Webinar #1: Why it's so hard to get over loving a sociopath and how you can recover
You've broken up with your partner. You know this person treated you badly, cheated on you and took advantage of your good nature. In fact, you now believe he or she is a sociopath. So why are you still in love? Why is it so hard to get over loving a sociopath?
It's not love that you feel — it's addiction. Scientists believe that all romantic love is addictive. But because of how sociopaths hijack the human bonding system, involvement with these disordered individuals is even more addictive.
Donna presents the three steps of breaking the hold that your ex has on you and moving on with your life. You'll learn the truth behind your relationship with the sociopath, how to overcome the obsession that you feel, and how to process the emotional pain.
No matter how broken-hearted you feel after dating a sociopath, it's possible to recover. You'll learn:
Why all romantic love is an addiction
Why the addiction to sociopaths is worse than a normal relationship
12 facts you must believe about your involvement with the sociopath
How to break your obsession with the sociopath
How to heal your deep emotional pain
Webinar #2: Dating again after the sociopath
You thought you found love, but you found a sociopath. You were burned — badly. Your ex is gone now, still, you hesitate to try dating again after the sociopath. Your reluctance is understandable. But don't give up! It is totally possible to find a shiny new romance, even after a nightmare experience.
Once you're feeling centered — and Donna explains how to know when you are sufficiently healed — there are approaches and strategies you can employ to protect yourself from becoming involved with a scammer or exploiter again. Donna explains the warning signs of disordered behavior, how to check out prospective partners, and how to know if someone who seems to be doing nice things for you is faking it.
Yes, millions of sociopaths live among us. But far more people are not disordered. In this program, you'll learn to distinguish those who are capable of love from those who are not, so that you can find a kind, loving partner. Even after the pain you endured, real love is possible. In fact, because of what you went through, your new love could be better than you ever imagined.
You'll learn:
How to protect yourself from sociopaths
Why internal healing is important
Lovefraud's 3 rules of dating
10 tips for dating with awareness
Staying safe with online dating
About the instructor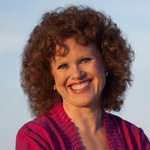 Donna Andersen is author of Lovefraud.com, a website that teaches people to recognize and recover from sociopaths. She is also author of Red Flags of Love Fraud—10 signs you're dating a sociopath and the Red Flags of Love Fraud Workbook. 
Donna learned about sociopaths the hard way—by marrying one. She tells the whole outrageous story in her first book, Love Fraud—How marriage to a sociopath fulfilled my spiritual plan.
Donna has collected more than 5,000 cases of people targeted by sociopaths, and has conducted five Internet surveys of survivors. She has presented her research on sociopaths to the Society for the Scientific Study of Psychopathy. Donna is the program administrator for Lovefraud CE, which offers continuing education about personality disorders for survivors and mental health professionals.
Donna has appeared on television shows including ABC News 20/20, Who the Bleep Did I Marry?, My Life is a Lifetime Movie, Handsome Devils, Urban Legends and The Ricki Lake Show. She has been interviewed for multiple radio shows, print articles and web posts.
Cost and credits
This bundle offers two hours of instruction, plus you'll hear Donna answering questions from the people who attended her initial presentations. The webinars are available separately for $37.50 each, or $75 total. With this bundle, you get them both for $50. Once you purchase these courses, you can access them online as long and as often as you want.
Although this bundle does not award continuing education credits, you will be able to download a certificate of achievement upon completion of each webinar.
Here's are previews of the webinars:
Yes, your heart has been broken by a sociopath, but don't let it ruin the rest of your life. You CAN recover emotionally, and you CAN date with an awareness of predators. With this dating recovery bundle, you'll learn how.
Lovefraud Dating Recovery Bundle – SALE! $50
Sign up for this course now