About this course
If you will face family court cross-examination by your abuser, you're probably nervous. Apprehensive. Maybe even terrified. You know how you feel when he or she goes after you — you get so upset that your mind blanks out. You can't think and can't act.
Caroline Parsons, a family lawyer who is also a survivor, has an analogy for this experience: You're knocked off your throne. Your brain is like a gentle king or queen, accustomed to making rational decisions. But when under attack, the king or queen flees, and the general takes over. The general can only respond in four ways: fight, flight, freeze or friend — none of which will help you in court.
In this webinar, Caroline explains what you can expect during family court cross-examination and how to prepare for it. She'll describe self-care before your court date, grounding techniques, and five steps for effectively answering questions during your hearing. The goal is to put the king or queen back on the throne so you can think and respond appropriately when it's critical — during your hearing.
Highlights
How your brain is like a gentle king or queen making rational decisions
What happens during family court cross-examination
How you can prepare for your day in family court
The importance of knowing your own court documents
5 steps to successfully answering questions in court
About the instructor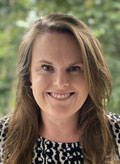 Caroline Parsons is the principal lawyer at Solo Legal, a family law firm in Australia. As a survivor herself, Caroline understands the trauma of separation and divorce. She believes in taking a human and empathetic approach to resolving family disputes and has trained in trauma-informed practice.
Caroline has 20 years of negotiating complex finance transactions for top tier law firms and international banks such as KWM, Linklaters and UBS in Sydney, London and the Middle East. She is admitted to the practice of law in Queensland and New South Wales in Australia, and in England. She holds bachelor degrees in economics and law, and a graduate diploma in law.
Cost and credits
The cost for this course is only $25 for 60 minutes of instruction. Once you purchase the course, you can access it online as long and as often as you want.
Although this course does not award continuing education credits, you will be able to download a certificate of achievement upon completion.
Learning objectives
 After this course, you should be able to:
Understand how abuse hijacks your brain
Prepare yourself emotionally for court
Learn grounding techniques
Prepare effectively for family court cross-examination
Calmly respond to questions in court
Program Agenda
55 minutes instruction
Understanding what happened to you

Your logical brain was hijacked
You are living in survival mode

What happens in family court cross-examination

What can you expect? More abuse

How to prepare for court

Be familiar with your court documents
Opportunities for support during the hearing
Observe other court proceedings
Understanding your own triggers
Grounding techniques to help you
Prepare with self-care

5 steps to answer questions effectively
Traps to avoid during family court cross-examination
5 minutes questions and answers
Here's a preview of the course:
Restore your brain's king or queen — your ability to think. Learn about preparation, grounding techniques and five steps for answering questions during cross-examination, so you can respond effectively during family court cross-examination.
Customer reviews
Add your review — click and scroll down
Take back your throne: Reclaim your power in family court cross-examination – $25
Sign up for this course now