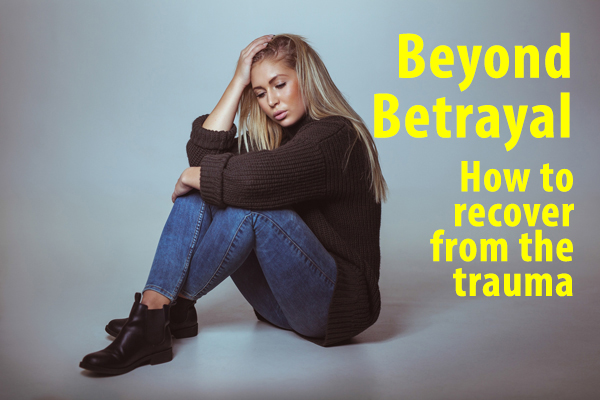 About this course
Intimate betrayal is a pain unlike any other; it strikes the core of our capacity to trust and love. When a person whom you love, rely on and trust betrays you, it paralyzes your physical, emotional and psychological wellbeing. Your trauma responses are activated, flooding your body with stress hormones and chemicals. If you're not treated, or if threatening events continue to occur, your body remains stuck in the trauma response. This actually rewires your nervous system.
Still, recovery is possible, and begins with making a plan. You'll need to cope with the immediate situation and perhaps find the right therapist. Then your goal is to clear your head and live intentionally. It helps to monitor your progress using tools such as daily tracking or journaling.
In this course, Beyond Betrayal, Colleen R. Baker, a nurse educator, walks you through the stages of betrayal, the common symptoms associated with the trauma of betrayal and strategies for finding healing and recovery.
Highlights
The 5 stages of betrayal, from The Set Up to Rebirth
How betrayal trauma rewires your nervous system
The natural trauma responses that are designed to protect us
Strategies for returning to equilibrium
How to find clarity in the insanity
About the instructor Colleen R. Baker

Colleen R. Baker, RN, BSN, CHPN, LNC, is a visionary nurse educator with an accomplished career that combines 17 years of clinical practice, teaching, and mentoring. Colleen graduated with a BSN from Samuel Merritt University School of Nursing and St. Mary's College in Moraga, California. She holds several national certifications, including Certified Clinical Trauma Professional and Hospice and Palliative Nurse Specialist. She is a Legal Nurse Consultant and an approved Continuing Education Provider through the California State Board of Registered Nursing.
As a survivor of abuse and betrayal, Colleen has gained insight and clinical expertise while navigating her own healing and recovery. As a child, she experienced domestic violence and neglect and was ushered into the foster care system at the age of 11. By the time she was 17 and primed for toxic relationships, she met, married and was duped for 27 years by a malignant narcissist.
Today, she teaches survivors and healthcare professionals about abusive personalities, targets of abuse, abusive relationships, and life in recovery. Colleen specializes in Betrayal Trauma and keenly understands the intense psychological and physical damage caused by toxic personalities. She shares her message of hope by counseling and teaching trauma-informed therapeutic remedies to help survivors of abuse shift the paradigm of suffering to healing and empowerment.
Cost and credits
The cost for this course is only $45 for 90 minutes of instruction. Once you purchase the course, you can access it online as long and as often as you want.
1.5 Continuing Education credits available to RNs and LVNs. "Provider approved by the California Board of Registered Nursing, Provider #17646 for 1.5 Contact Hours." Colleen R. Baker, LLC, 2070 N. Broadway Plaza #5070, Walnut Creek, CA 94596.
Learning objectives
This workshop will enable participants to:
Define betrayal trauma.
Discuss the 5 stages of betrayal.
Learn how the body adapts to traumatic events caused by a toxic person.
Identify common trauma symptoms associated with betrayal.
Describe ways to heal and recover after a relationship with a toxic person
Beyond Betrayal: How to recover from the trauma program agenda
60 minutes of instruction
Betrayal defined
5 stages of betrayal

The set up
Blindsided
Survival
New Normal
Rebirth

Suffering caused by betrayal leads to long-term trauma
Trauma explained
5 trauma responses
How the body adapts and responds to traumatic events
Anatomy of trauma
How trauma affects us

Physical effects
Emotional effects
Social effects
Spiritual effects

Healing and recovery
Working toward homeostasis
Therapeutic methods
Gaining clarity after the insanity
25 minutes questions and answers
Intimate betrayal creates trauma, and trauma rewires your nervous system. Learn the common symptoms of betrayal trauma, and how to heal after a relationship with a toxic person.
Customer reviews
Add your review — click and scroll down
Sorry, no reviews match your current selections
Beyond Betrayal: How to recover from the trauma — $45
Sign up for this course now