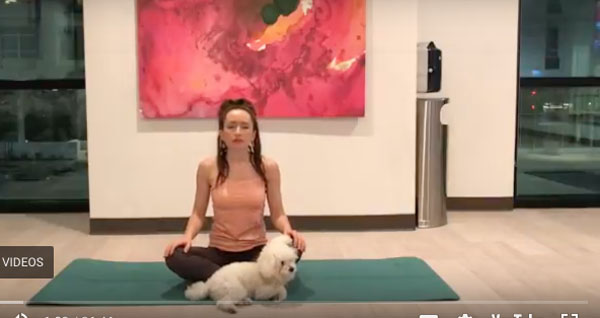 About this course
If you've been exploited by a disordered, toxic person, you may feel like you're full of pain, or full of knots. It may be difficult to breathe. You may have trouble focusing on anything, because you just want the tension to go away. How do you recover from the trauma? You need self-love and healing.
Ruzanna Dinger was in a traumatic situation that caused her to experience worrisome physical symptoms — blackouts, heart palpitations, panic attacks. To get through it, she used calming mind/body techniques and exercises. Ruzanna is now sharing her healing journey with Lovefraud readers.
This 30-day Self-Love and Healing video series uses simple breathing, meditation and yoga techniques and movements that anyone can do. Although Ruzanna is not a certified yoga teacher, she has been practicing for 10 years, and she invites you to take the healing journey yourself. "Don't just watch," she says. "You have to follow the moves, no matter how simple they look, to get any benefit."
The video series is Ruzanna's gift to everyone struggling to overcome a toxic involvement.
Highlights
How to notice your feelings and make them serve you (Day 4)
Forgiveness is not for the person you forgive, but it's a gift you give to yourself (Day 7)
Being present in the now, because the now is all that really matters (Day 9)
Shifting from blaming to taking responsibility for your recovery (Day 20)
Thinking of failure as an opportunity to learn (Day 29)
About the instructor

Ruzanna Dinger is originally from Armenia, where she studied psychology and sociology at Yerevan State University, the largest and most prestigious university in the country. She then spent eight years in London, where she earned a degree in public relations from London Metropolitan University and worked at the Department of Surgery at Imperial College London. She believed that love was blind, but marriage turned out to be a real eye-opener. Ruzanna says she had to quickly learn to back up her mind on a hard drive, so not to lose it, and control constantly dropping pH levels in her life, with no degrees in IT or chemistry. She turned to her 10 years of meditation and yoga practice to get her through the trauma. Ruzanna is passionate about sharing her healing strategies with the Lovefraud community, to make a difference.
This course is FREE!
There is no cost for this course. Once you sign up, you can access it online as long and as often as you want.
Although this course does not award continuing education credits, you will be able to download a certificate of achievement upon completion.
Program agenda
This is a series of 30 videos incorporating easy breathing, meditation and yoga techniques. The series is designed to help you overcome the negative experience of being involved with a sociopath or some other trauma and find peace within yourself. Each video has a different theme:
Day 1 – Awakening — take back your power
Day 2 – Breagrieve — breathing through grief
Day 3 – Think — fill your brain with thoughts that will serve you
Day 4 – Feel — truly feel what is going on inside you
Day 5 – Bathermostat — our natural thermostat warning us of danger
Day 6 – Reflect — remembering who we are and our purpose in life
Day 7 – Forgive — forgiveness is about you and not the other person
Day 8 – Accept — accepting the way we think and feel, accepting ourselves
Day 9 – Hold On — the importance of being present in the now
Day 10 – Wake Up — optimal rest so that you can show up for life
Day 11 – BGrateful — when you feel grateful, your internal state changes
Day 12 – BPositive —the secret to unlocking the positivity within you
Day 13 – Get Out — get out of your comfort zone and participate in life
Day 14 – Work Out — a 7-minute daily energizing routine
Day 15 – Dream —fill up your heart and mind with ideas and inspiration
Day 16 – Visualise — create mental images of the life you truly desire
Day 17 – Understand — look inward, and get to know yourself
Day 18 – Act — take steps to make your dreams come true
Day 19 – Give — use your pain as a meaningful contribution to others
Day 20 – Shift —from blaming to taking responsibility for your recovery
Day 21 – Tune In — choose the right frequency for self-love and healing
Day 22 – Embrace — stay in the present and embrace the moment
Day 23 – Believe — recover from a trauma by believing in yourself
Day 24 – Nourish — choose the right sustenance for your body and mind
Day 25 – Detox — clear your mind with the help of your body
Day 26 – Create — use your intuitive mind to create the life you want
Day 27 – Time — how to seize the opportunity of time
Day 28 – VAKS — visual, auditory, kinesthetic or sensory learning
Day 29 – Fail — using failure as an opportunity to learn
Day 30 – Celebrate — reward yourself for your progress and love
After the trauma, you may feel powerless, but you are not. Make the decision to recover through self-love and healing. Day by day, this gentle practice helps you find your center, heal from the betrayal and take back your life. The course is free but you do have to register as a Lovefraud reader. Click the "Join" link at the top of the page.
30-Day Self-Love and Healing Journey of Breathing, Meditation and Yoga – FREE!